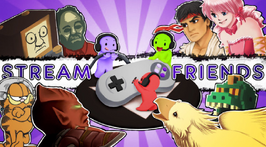 The 
Streamfriends Youtube channel
 has over 500 hours of footage, with more being uploaded on a frequent basis. Below is a list of links to the games featured on the channel to date, roughly sorted based on the length or type of broadcast. 
Deep Dives
Edit
Games played over multiple streams or for an extended period in one sitting.  
Swift Samples
Edit
Not necessarily "short" in the traditional sense, these are mostly one-offs or part of larger streams.
Special Features
Edit
Join @pkollar and a rotating list of guests as we feed his addiction to Blizzard's new Warcraft-based card game, Hearthstone.
@John_Carson & @dylanhecht play fighting games LIVE on the internet with YOU! And lose a bunch while doing it.
Join @dylanhecht on an epic quest of magical adventure: fatherhood. Fatherhood of a chocobo, that is. In Final Fantasy XI.
@bleatingheart 

Edit
Janine's Youtube presence includes several relevant videos, such as:

DIGIMOON (Good Game Charity Stream)
Raising Tamarind Highlights (Animal Crossing)
Hey! We're playing Tomodachi Collection for the DS (NOT Tomodachi Life for the 3DS) to get familiar with the series before Tomodachi Life is released in English.