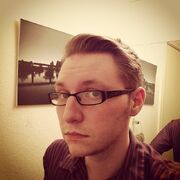 "
Lead Writer at 
@

MinicoreStudios
 | Retired Games Journalist (formerly of 
@

Joystiq
) | 소녀시대/少女時代 SONE"
-Twitter bio
Jordan is a sporadic guest on random Phil Kollar streams, as well as a semi-regular guest on Janine Hawkins' ongoing Let's Play 20+ Years of Sailor Moon LP series. During Phil's Good Game charity livestream marathon, Jordan hosted a segment of VVVVVV speedruns, where he completed the game's story mode with all 20 trinkets in under 30 minutes. Jordan also maintains Dumb Combos , a YouTube channel that was originally created for fighting game tutorials, but very quickly turned into a resevoire for Let's Play anticts. 
Jordan will appear as a model in the 2015 edition of Dan Teasdale's Men of Game Development calendar. 
Owner and curator of Shampoo Dance, a Girls' Generation fan tumblr. 
Jordan's favorite member of Girls' Generation is Tiffany. Jordan loves Tiffany so much, he left a heartfelt thank you to her in the credits of Minicore Studios' The Sun at Night.