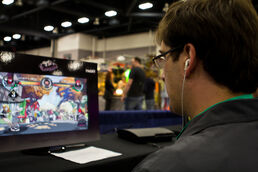 "Not particularly afraid of any specific kind of ghost."
-Twitter bio
Dylan Hecht was recruited by Phil to become a Stream Friend as a reward for relentlessly insulting him in years of WoW raids. I mean, why not right? He streams many kinds of games but mostly sticks to fighting, open world/MMOs, and Nintendo games. Oh, and anything with with a chocobo in it as well!
-StreamFriends bio
Facts
Ran a 50 episode series called Raising Vana'diel, where Dylan raises a chocobo in Square Enix's Final Fantasy XI.
One of the few people in the universe who played and enjoyed Final Fantasy XIV 1.0.
One of many people in the universe who will most likely play Final Fantasy XIV: A Realm Reborn.
Quotes (alphabetical by game)
(regarding Scorpion) It's not his fault he was resurrected by evil wizards from Hell. - Mortal Kombat
Links
Videos
Trivia
All the worst things on Phil's twitter probably came from Dylan. 
Community content is available under
CC-BY-SA
unless otherwise noted.