"an individual of mysterious and indistinct gender ☆ I make visual novels and dating sims! ☆"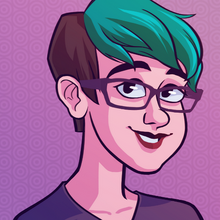 -Twitter bio
Facts
Created the game Kindness Coins and is currently at work on Date or Die, a visual novel!
Quotes (alphabetical by game)
You can afford to eat diamonds but you're buying bargain health potions?! - The Elder Scrolls III: Morrowind
The city planner was a level designer! - Murdered Soul Suspect
We're too dead to be doing paperwork. - Murdered Soul Suspect
The only loot is a sad guy. - Murdered Soul Suspect
They don't call me the skeleton whisperer for nothin'! - Shadowgate
Links
Arden on Twitter
Arden's website.
Community content is available under
CC-BY-SA
unless otherwise noted.